Susan Comb's recently featured me in her "What's the Good News, Ladies" column for BenefitsPRO magazine.
I am in great company this month – Paula Beersdorf and Cerrina Jensen have great things going on also.
It is easy to forget all the good things that have happened in the past year!  So much has happened and we are just getting started, look out 2018!!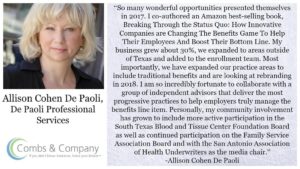 You can read the full article here:
https://www.benefitspro.com/2018/03/12/whats-the-good-news-ladies-march-madness-edition/?slreturn=20180212134428